Ever get an email that was intended for someone else? I get email mix-ups ON THE REGULAR. And I'm not talking like a friend that accidentally emailed me instead of someone else. I'm talking about emails intended for complete strangers. Complete strangers who just so happen to share something in common with me: the name Robert Gavin.
You see, my personal email is basically just a variation of my first and last name at Gmail. I jumped onto the Gmail bandwagon super-early (I remember constantly begging everyone I knew to send me an invite way back when it was in beta in 2004), so I wound up with a great email address. And apparently, these other Robert Gavins have a very similar email or they or their family members seem to think that my email is actually theirs. So I wind up with an endless stream of emails intended for many of the other Robert Gavin's of this world. One of my favorite webcomics, XKCD, actually created a comic about this very situation: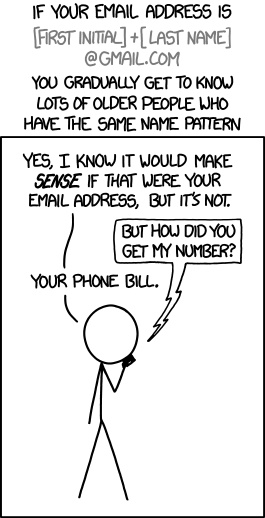 My name is not super common, like John Smith. But apparently, it's common enough that there are quite a few Robert Gavin's out there. You can easily find a whole bunch with a quick Facebook search. There are even some C-list celebrities that have the name Robert Gavin. Remember the early 90's remake of Land of the Lost? I do because it was usually on TV when my sister Krissy and I got ready for school in the morning. One of the stars of that show was named, you guessed it, Robert Gavin. There was even a Scottish painter named Robert Gavin in the 1800s who, eerily enough, died exactly 100 years to the day before I was born. Isn't that a wild coincidence?
So what have I learned about these other Robert Gavins? For most of them, not much other than that they have the same name and a similar email address to mine. But I have learned a bit more about some them from the emails that have come my way. Here are a few of my favorites, in no particular order:
The Wealthy Robert Gavin
The first email mix-up that stands out in my mind was actually also the wealthiest one I've seen so far. One day, I got an invoice in my email from an online chair company. The Robert Gavin in question had bought two Aeron chairs, which are rather expensive at over $1,000 each, and had them shipped to his home in California. In Hidden Hills – which is a gated community for the very wealthy. Right now, Jamie Foxx, Jennifer Lopez, Miley Cyrus, Britney Spears, and the Kardashians all live in Hidden Hills.
And since I had the wealthy Robert Gavin's shipping address, I checked out his house online. And wow, this Robert Gavin is really well off. It's a sprawling ranch home that, while not exactly Maria's and my style, is still quite beautiful. I just checked out the house again and it sold in 2017 for $5,150,000.
The Golfing Robert Gavin
Probably my favorite Robert Gavin lives across the pond somewhere in the UK. At one point, I accidentally ended up on the email list for a group of his friends when they were planning one of their regular golf outings. And I remained on that list for the next couple of years, despite my repeated emails about the incorrect Robert Gavin being included. I got to know quite a bit about this Robert Gavin. I learned his wife's name, I knew many of his friends (who were very apologetic when they accidentally emailed me), and I honestly didn't mind when I got their emails. They mostly made me chuckle.
The Out-of-Work Robert Gavin
On the other end of the spectrum is the Robert Gavin I felt pretty bad for. This Mr. Gavin lived in the Vancouver area, I believe. He was an out-of-work carpenter who was just looking for a job. And he got a lot of interest from potential employers, too. Except that all of his interview requests came to my email and not his. This series of emails was the hardest for me because I really wished I knew the correct email for that Robert Gavin so I could forward those emails, but I had no way of tracking it down. They did eventually stop, so I hope he found work or at least realized he had the wrong email address distributed to potential employers.
The Single Robert Gavin
Most recently, one of my doppelgangers signed up for a dating service. I believe it was OkCupid, but I honestly cannot remember since I deleted all of the matches pretty quickly. Normally, I don't like getting into these Robert Gavin's accounts, but I hit unsubscribe really quickly on that. I also made sure to tell Maria as soon as those emails started to avoid any unfortunate misunderstandings (we did meet online, after all). Though she just laughed about it and said I should write a blog post about it, so here we are. My wife is amazing, folks.
Other Roberts Gavins
The above ones aren't all of the Robert Gavin's who have accidentally used my email address, they're just the ones that stuck out the most to me.
There were numerous others, including:
There was another person in the UK whose family friend kept sending me her travelogues and photos.
There was the Robert Gavin in New Jersey who rented a car.
There was the Robert Gavin in Pittsburgh who joined a gym.
There was the couple who booked a flight to the west coast. The husband's name is Robert Gavin and the wife just made a typo when she entered his email address.
There was the Robert Gavin who applied for a therapist job with the federal government.
And there were a bunch of invoices for Robert Gavin's in the UK for various services, most of which I have deleted and cannot remember what they were (I guess Robert Gavin is a common name in the UK. Go figure).
I don't know how common a problem this is for other people, but it sure has brought some interesting anecdotes into my life. Do you have a similar story with an identity mix-up like this? I'd love for you to share it, at the very least so I know I'm not the only person who has this problem.